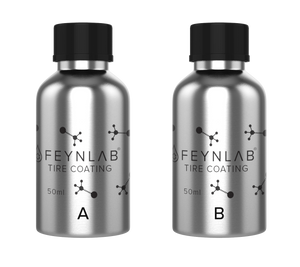 FEYNLAB TIRE COATING SYSTEM
Regular price
Sale price
€42.50
---
FEYNLAB®
TIRE COATING

FEYNLAB™ TIRE COATING is a semi-permanent tire protection and shine, meant to keep your tires looking like they were dressed for over a year.
FEYNLAB™ TIRE COATING is without a doubt a revolutionary product, as it is the first two-component semi-permanent tire coating on the market.
TIRE COATING Benefits:
With FEYNLAB™ TIRE COATING, tire sling is a thing of the past. Forget about messing with expensive greasy silicon-based tire dressings ever again. Simply wash your tires with every car wash to reveal a freshly cleaned and dressed look.
You can adjust the gloss level of FEYNLAB™ TIRE COATING with multiple layers. One layer will give an "undressed" clean look. Two layers will give a semi-gloss "dressed" look that most people will desire. Three layers adds significant gloss to the tires.
FEYNLAB's™ true nano technology and bonding chemistry allows for an unparalleled level of protection since the formula penetrates further into the existing rubber structure than anything else available and forms a semi-permanent bond with the surface.
Durability & Approved Surfaces:

With regular washes using FEYNLAB™ PURE WASH OR FEYNLAB™ PURE RINSELESS, you can expect over a year of durability with two or more layers applied.
APPROVED SURFACES FOR APPLICATION ONLY: – DO NOT apply to unapproved surfaces
Shelf Life:
Unopened  – 1 year.   Once mixed use immediately.
Included:
50ml FEYNLAB® TIRE COATING PART A
50ml FEYNLAB® TIRE COATING PART B
TIRE COATING APPLICATION KIT
Cautions:
Always wear respirator & gloves during application. Ensure application area is free of loose contamination.
Prepping the Tire:
Thoroughly clean the tires using FEYNLAB™ WASH or FEYNLAB™ RINSELESS using a scrub brush. Rinse clean. Give a final wipe with FEYNLAB™ PANEL PREP to remove any remaining residue that may cause bonding issues. Allow to dry to the touch (tire does not need to be bone dry prior to application).
Directions:
Prior to application place vehicle in a well lit, temperature controlled 10°C-30°C (50°F-85°F), & contamination free environment.
Begin shaking PART A and PART B vigorously for 20 seconds. Mix equal amounts of PART A & PART B into the included empty container. Shake the mixture vigorously for 2 minutes.
Using the included applicator, apply the mixed TIRE COATING to the outside of the tire, avoiding the wheels and tire tread. If any product gets on the wheel, immediately wipe off with a microfiber towel. Strive for an even application with no high spots or streaking. Allow the product to dry while you coat the remaining vehicle tires. After making your way around the vehicle, begin again at the first tire and apply a second even layer for additional protection and a semi-gloss look. For further gloss, a third layer can be applied in the same manner.
Post Application Instructions:
Avoid any incidental water exposure for 24 hours
Avoid all chemicals including car washes for 7 days
Wash & Maintain using FEYNLAB™ PURE WASH or FEYNLAB™ PURE RINSELESS