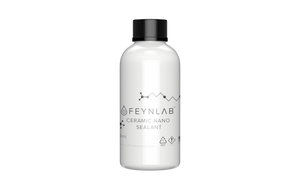 CERAMIC NANO SEALANT
Regular price
Sale price
$38.00
---
FEYNLAB® CERAMIC NANO SEALANT is a simple to use, super glossy, extremely hydrophobic, highly durable, and UV protective ceramic 'sealant' for all exterior vehicle surfaces. In addition to outstanding durability and performance, CERAMIC NANO SEALANT adds a brilliant shine and richness to painted and plastic surfaces. This simple wipe on / wipe off formula, makes CERAMIC NANO SEALANT perfect protection for all vehicles.
Product Benefits:
Safe on all exterior vehicle surfaces: painted, plastic, wheels, even glass (windscreen not recommended)
Adds a deep gloss and richness and to painted and plastic exterior surfaces.
A super hydrophobic which causes water to sheet off and inhibits dirt & contamination surface bonding.
Extremely Simple and Quick Wipe on, Wipe off application method.
Perfect complimentary protection layer for any ceramic coated vehicle, no matter the brand.
Durable stand-alone 'sealant' type of product with a minimum durability of 6 months .
When applied to wheels, greatly reduces cleaning time and effort — stay cleaner for longer.
Durability & Application Surfaces:
Durability – 6 months.
APPROVED SURFACES FOR APPLICATION ONLY: – DO NOT apply to unapproved surfaces
Clear-coated painted surfaces
Black textured plastics
Headlights & Tail-lights
Black piano trim
Clear-coated painted wheel rims & calipers
Included:
A 120ml Bottle.
Cautions:
Always wear respirator & gloves during application. Ensure application area is free of loose contamination.
Paint Preparation:
Thoroughly clean vehicle using FEYNLAB® PURE WASH. Follow with a topical decontamination clay treatment using FEYNLAB® PRIME.
Directions:
Place vehicle in a well lit, cool, & contamination free environment.
Thoroughly rinse vehicle of all loose dust, debris, and topical contamination — when possible.
Clean all exterior vehicle surfaces with a PURE WASH for a traditional wash, or with PURE RINSELESS for a waterless or rinseless wash.
Application Instructions:
Using a clean microfiber towel, apply CERAMIC NANO SEALANT to the towel. Prime the towel with 3-5 sprays.
For each section, the size of half a door or a quarter of a hood, apply 3-4 additional sprays to the towel.
Spread evenly over the surface. Amount of product should be enough to evenly coat the area without over saturation.
After applying, allow CERAMIC NANO SEALNT a dwell time of 3-4 min. After 4min, buff the area clear with another clean microfiber towel.
Recommended Maximum Area of Application:
HALF of a door or 1/4 of a hood, then wipe off in same pattern as application.
Final Inspection:
Carefully inspect all finished panels for leftover residue during the final wipe. Commonly edges, emblems, and other tight areas may contain some remaining residue. Product residue is much easier to remove if caught soon after final wipe than later on.